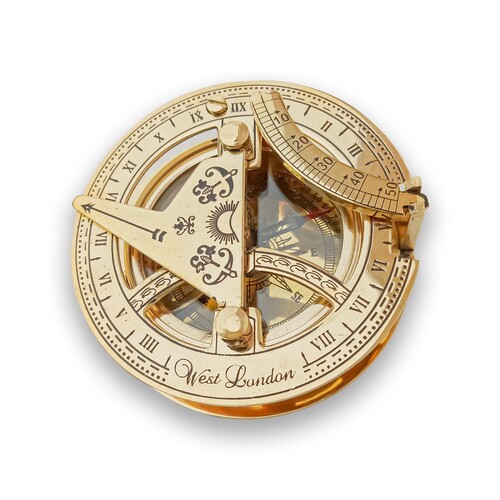 Product Description
Nautical Brass West London Sundial Compass
Color: Brass shiny polished ,
Usage: vintage navigational / collectibles
Brass Compass is the best gift for your family and friends
Item is listed and Sold Exclusively by Asian Nautical Store
Product Description

Brass Pocket Sundial Compass is a beautiful solid brass reproduction of an antique air-damped compass. . The high quality jeweled compass needle settles to North very quickly for timely and accurate readings. The Road Not Taken Two roads diverged in a yellow wood, And sorry I could not travel both And be one traveler, long I stood And looked down one as far as I could To where it bent in the undergrowth; Then took the other, as just as fair, And having perhaps the better claim Because it was grassy and wanted wear, Though as for that the passing there Had worn them really about the same, And both that morning equally lay In leaves no step had trodden black. Oh, I marked the first for another day! Yet knowing how way leads on to way I doubted if I should ever come back. I shall be telling this with a sigh Somewhere ages and ages hence: Two roads diverged in a wood, and I, I took the one less traveled by, And that has made all the difference.
Quality Assurance
Superior quality raw material is used in the manufacturing process
Quality check at each stage of manufacturing
Individual testing
Finally checked thoroughly before batch inception.
Packaging & Shipping
Each compass will pack with bubble packing and then in a master carton.
Shipping Services Available :-(1). By Air Door to door Delivery ,(2). By Air Port to Port ,(3). By Sea Port to Port ,
Our Services
1. 24hours good quality service
2. Competitive Price
3. Enjoin big discount for large order.